Online Exhibit
A featured collection of objects and artifacts exhibited online
Cruet Set
A set for serving salt, pepper, oil, vinegar and mustard on a dinning table. Cruet sets were made via hand blown glass. A iron rod was often stuck to the base of hand blown bottles prior to approximately 1860. This allowed an assistant to hold the bottle while a glassblower would attach and finish the lip of the vessel. When the bottle was broken or sheared, a ring or area of rough glass or grey graphite remained. This unique feature helps in dating the pieces.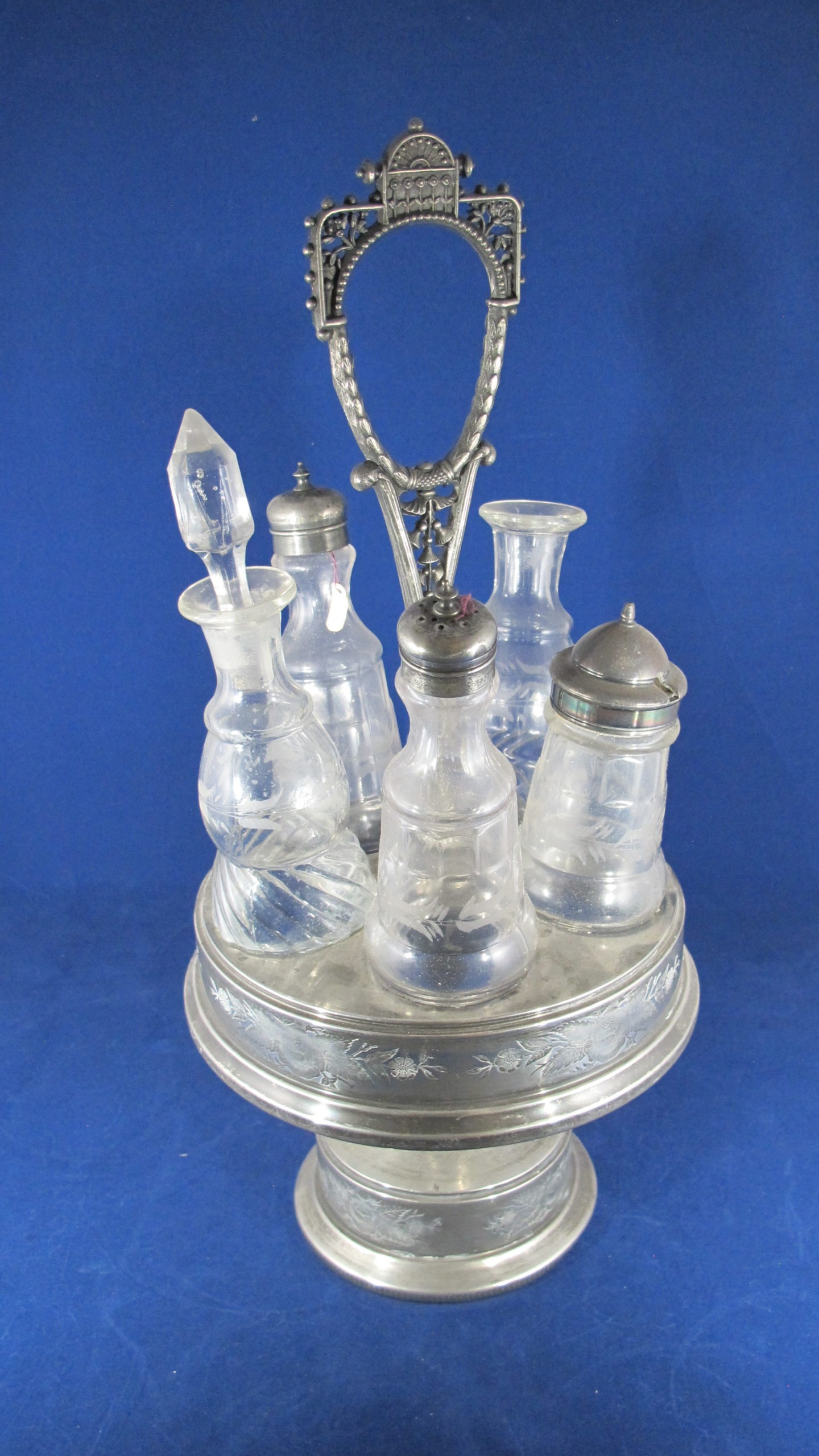 Science in the Kitchen
Ella Ervilla Kellogg, better known as Mrs. E.E. Kellogg, was a 19th century innovator in the science of cookery, how to cook properly, and most importantly, she recognized and taught the important role that palatable and nutritious cooking plays in leading a happy life. She ran an experimental kitchen and supervised the daily cooking requirements for 500-700 inmates in Battle Creek, Michigan's sanitarium and hospital
Her husband, John Harvey Kellogg (1852-1943), was a physician, health activist, and business leader. He served as director of the Battle Creek Sanitarium, founded by the Seventh-Day Adventist Church. Kellogg was a leader in the "clean living" movement. He would write and lecture on a number of health topics, promoting vegetarian food, temperance, and sexual abstinence. With his brother, the businessman  William Keith Kellogg , JH Kellogg invented corn flakes.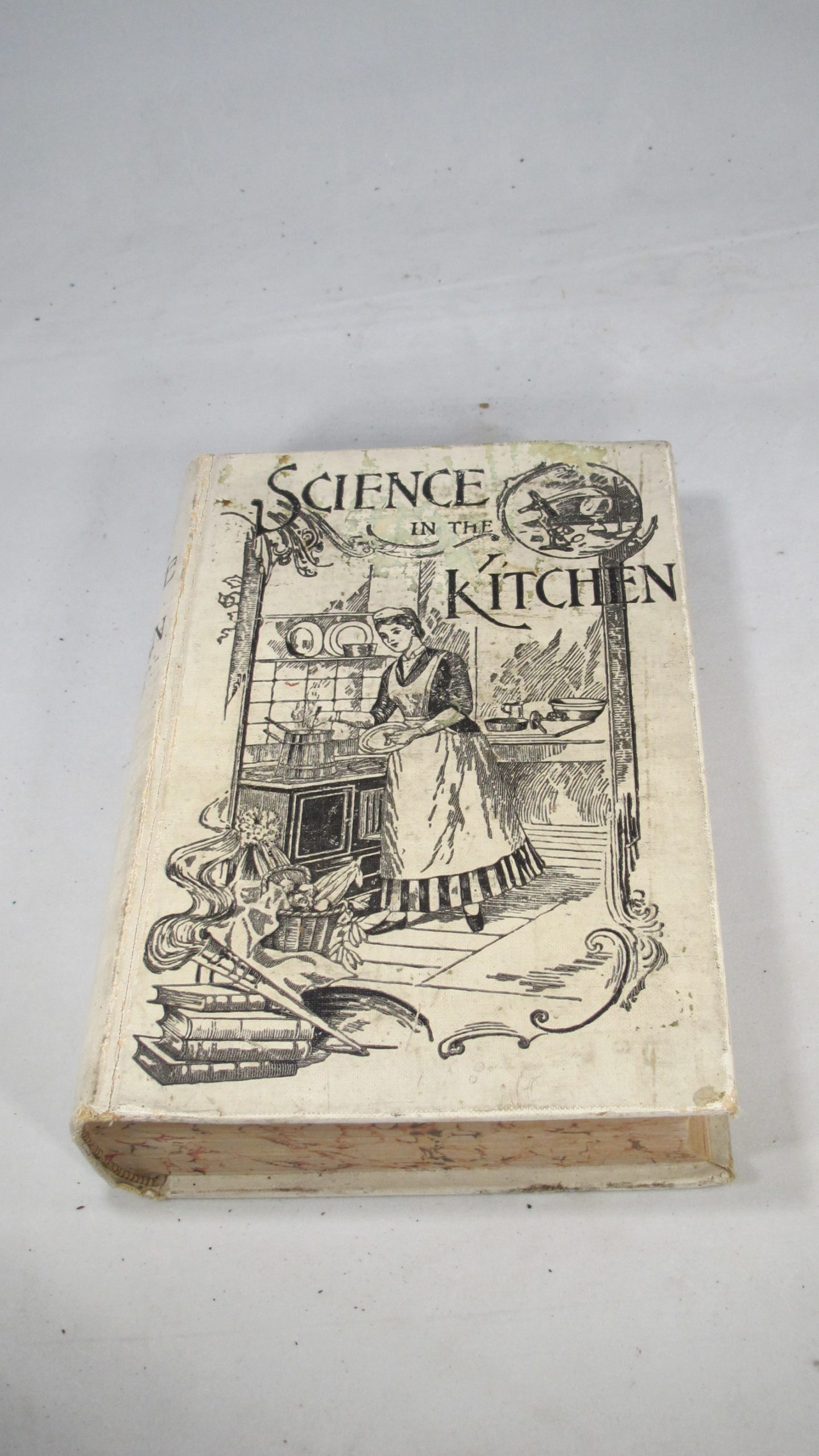 OXO Cubes
A bouillon cube, stock cube, broth cube or stock pot is dehydrated broth or stock formed into a small cube about 13 mm wide. It is typically made from dehydrated vegetables, meat stock, a small portion of fat, MSG, salt, and seasonings, shaped into a small cube. Vegetarian and vegan types are also made.
Around 1840, Justus von Liebig developed a concentrated meat extract. Liebig's Extract of Meat Company (Lemco; established in the United Kingdom) promoted it, starting in 1866. In 1899, the company introduced the trademark Oxo; the origin of the name is unknown. The cost of liquid Oxo remained beyond the reach of many families, Oxo produced their first cubes in 1910, sold for 1cent each, an equivalent to nearly $30 today.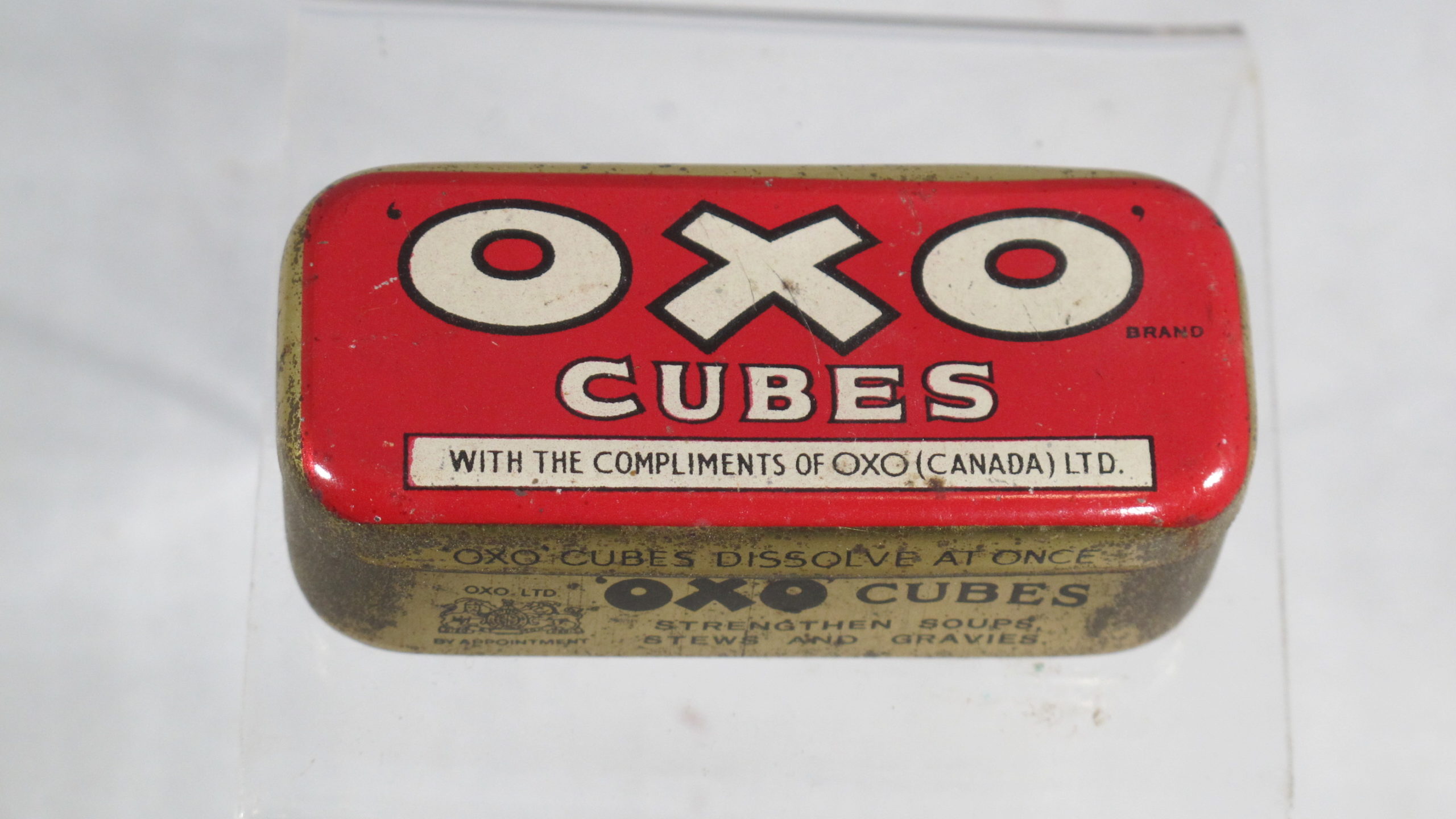 Seniors Paste Anchovy
This paste has "Guaranteed Free From Preservatives" on it even though it dates around early 20th century.  There was a large increase in food additives during the industrial revolution, and many people became concerned. This only grew as concern about the toxicity and carcinogenicity of additives intensified in the middle of the 20th century, as analytic chemistry made detecting and measuring additives easier.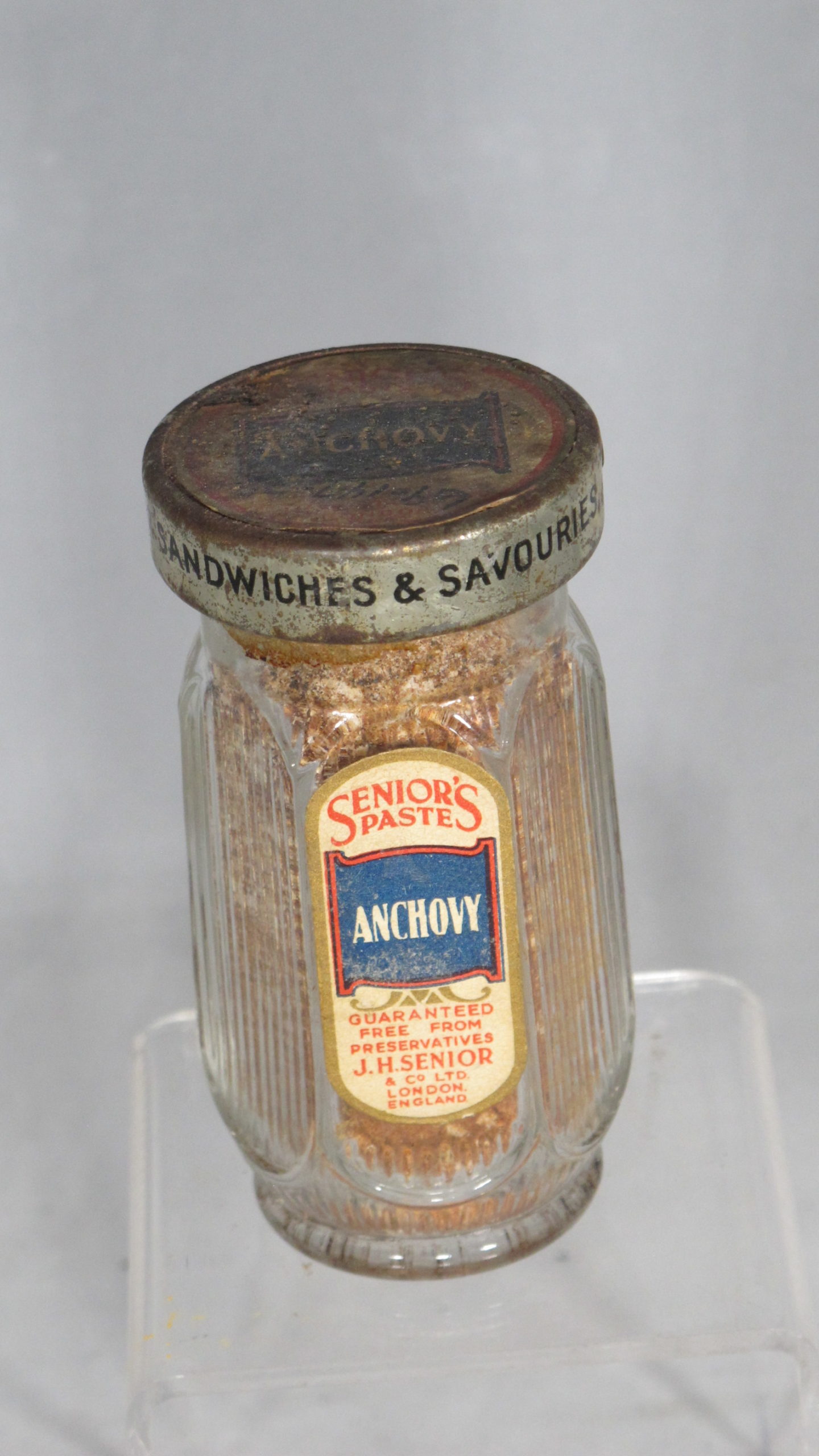 Nabob Turmeric
Nabob is well known for their coffee, but did you know they also sold spices? Nabob was originally the brand of Kelly-Douglas & co. limited. They began in Vancouver in Gastown in 1896 by Robert Kelly and Frank Douglas. In 1994, the Nabob brand was purchased by Kraft Foods
The term nabob comes from a term to describe a conspicuously wealthy man deriving his fortune in the east, especially in India during the 18th century with the privately held East India Company.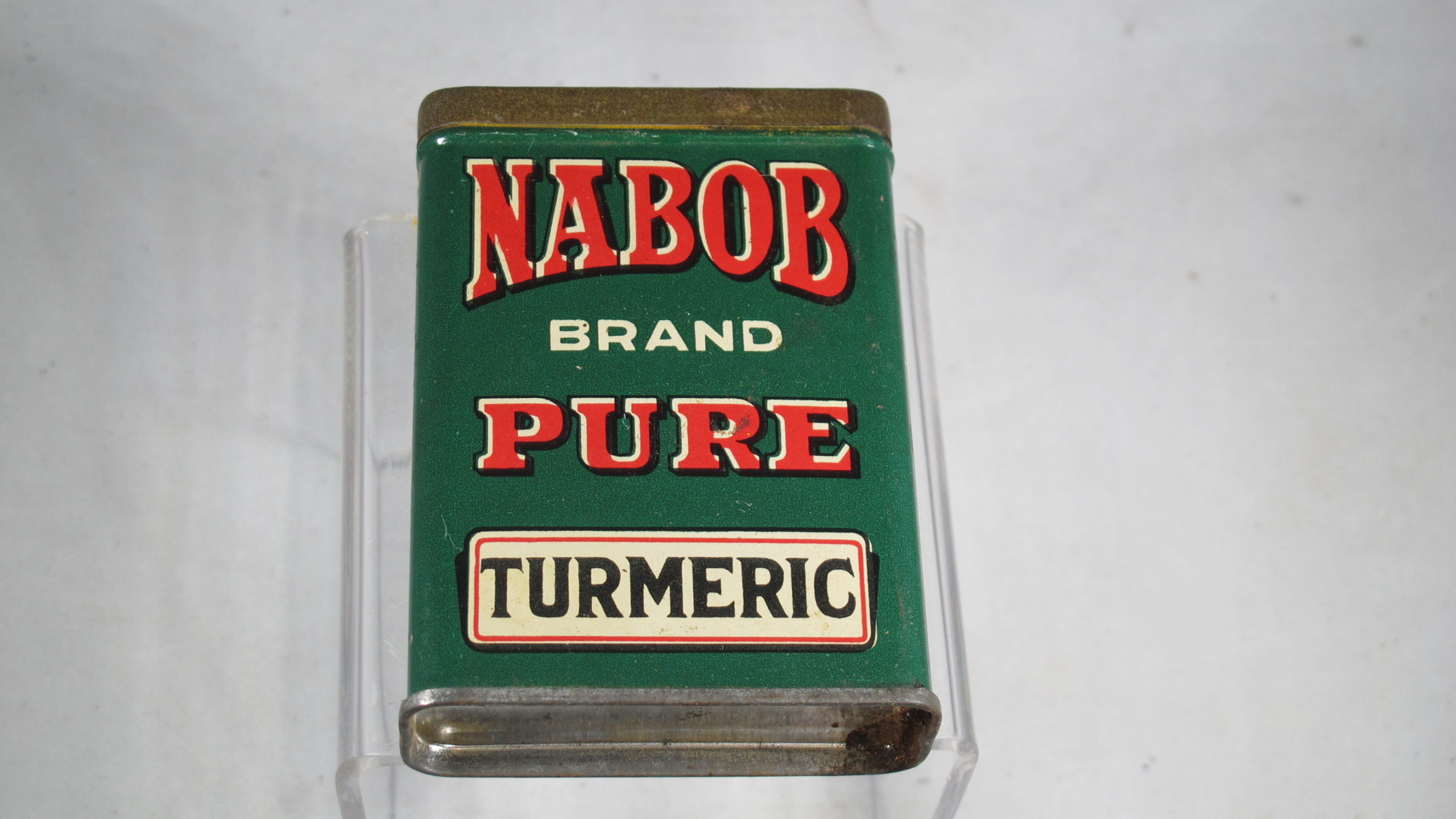 Dickson's Brand Paprika
Dickson's was established in Vancouver on Hastings Street in 1895 and in 1919 was re-organized as Dickson's Importing Tea & Coffee Company Ltd. In 1922 the name was changed to Dickson's Importing Company Ltd. andmoved to 157 Cordova Street in 1930. Dickson's also operated a retail store on South Granville Street from c. 1930 until 1965
In 1931 Dickson's located a salesman in Victoria, as part of an on-going search for business outside of Vancouver and in the late 1930s Dickson's sold coffee and tea to restaurants in the Okanagan, Kootenays, and Northern B.C. Dickson's was sold to Kelly, Douglas & Co. Ltd. in 1955 and in 1973 the name was changed to Dickson's Food Services Ltd. , merging with Nabob Foods.