The Museum at Port Carling, Ontario Canada
Exhibitions
Explore our NEW Cottage Corner exhibit to discover what cottaging was like in Muskoka in the late 1800s. On temporary display — 2 beautiful basswood whittlings made by local outdoorsman 'Jik' Jennings. These life-like creations depict an Anishinabek fisherman and a Metis hunter.
Imagine riding on a toboggan that is over 3 metres long! The Muskoka Lakes Museum will have one on display at WinterFest in Port Carling on Saturday, February 6th. Come in to the Community Centre at lunchtime to see it, along with a display of antique sleds from a local private collector. Children are also welcome […]
Activities
Peruse the list below to learn about this season's line-up of intriguing and illuminating lectures. Taking place at the museum, (unless otherwise noted) each Wednesday in July and August at 7pm, they are a fun part of the museum's summer. Cost is $5 each — $3 for members. 
NEWS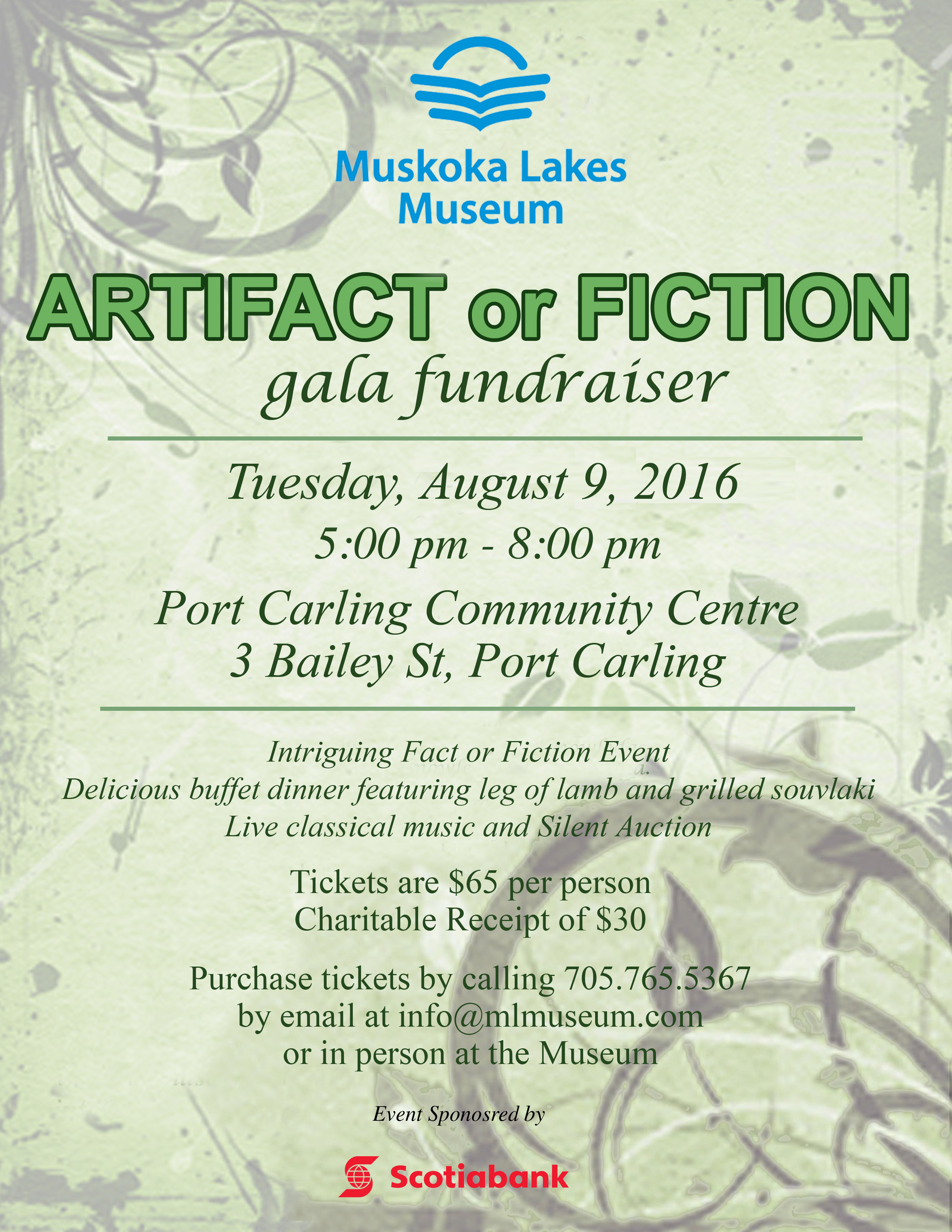 Please join us for our 10th annual Artifact or Fiction Gala on Tuesday, August 9th from 5pm to 8pm at the Port Carling Community Centre for a delicious buffet dinner, live classical music and a silent auction. Tickets are $65 with a $30 tax receipt. To purchase tickets: 705-765-5367, or info@mlmusum.com, or in person at the Muskoka Lakes Museum.
Dear Museum Member,
PLEASE BE ADVISED that the annual general meeting of the members of the Muskoka Lakes Museum, Port Carling (the "Corporation") will be held at the Muskoka Lakes Museum, 100 Joseph Street, Port Carling, Ontario, on Friday, July 8th, 2016 at 5:00 p.m. for the purposes of:
Hearing and receiving the Review Engagement Report from our Auditors on the financial affairs of the Corporation for its financial year ended December 31, 2015
Receiving and discussing reports from the President, Museum Director, and Committees of the Board
Consideration of changes to Museum Policies and Bylaw.
Electing Directors in accordance with our By-Law 1*
Electing external Auditors for the 2016 business year
Transacting such other business as may properly come before the meeting. Members wishing to add an item to the agenda, or to bring motions before the meeting, should advise the Secretary in writing or by e-mail by June 24, 2016.
* There are up to fourteen Director positions to be filled. If you wish to make a nomination, please contact Perry Bowker, Chair of the Governance Committee, before June 24, 2016, for further instructions. (pbowker@sympatico.ca or (905) 632-5832)
PLEASE NOTE that in order to vote on these matters, membership fees for the 2015-2016 season must be paid up in full. If you wish, you may vote by PROXY by completing the form below.
DATED at Port Carling the 14th day of April, 2016.
We are now open for the season! Come in and see our new exhibits, enjoy our kids activities and find out what we have planned for the 2016 season, including a full slate of lectures and special events. Hope to see you at the museum this summer!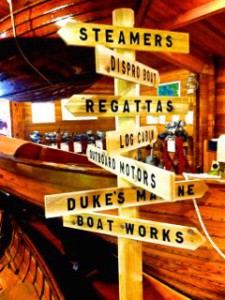 We are an Attractions Ontario Finalist in their new Ontario Choice Awards. The Muskoka Lakes Museum has been chosen as one of eight museums in the small museum category. And we need your vote! Please use the Attractions Ontario button below, or go to www.attractionsontario.ca/ontarioschoice click on the Small Museums icon and then cast you vote for the Muskoka Lakes Museum. You can vote as many times as you like! Voting ends September 6th of this year. And be sure to visit us this year, once we open on Saturday, May 21st. Thank you, and hope to see you at the museum this summer.
The Muskoka Lakes Museum is looking for some enthusiastic youths to volunteer in the children's programs and other special events at the museum!  The children's programs are held every Wednesday to Friday 1-3 pm throughout the summer.  Each day is a different theme, with crafts and games to tie it all together. The themes relate to exhibits at the museum, as well as life in Muskoka, past and present!
What You Would Do
Attend the Children's Program, at least 2 hours a week, plus help out at one special event (i.e. Muskoka Lakes Museum Day)
Help supervise children and assist children with making crafts
Join in the games and activities
Some Reasons to Volunteer at the Muskoka Lakes Museum
Exciting way to get hours for your 40 hours of community volunteer work
If you want to be a teacher, this is a great experience
Volunteers get 10% off the items in the gift shop (posters, books, toys, etc.)
If you're there for at least 2 hours every week, plus you help out at one special event, you get a free t-shirt at the end of the year
Contact the museum by phone or through email to sign up.