The Museum at Port Carling, Ontario Canada
Exhibitions
Explore our NEW Cottage Corner exhibit to discover what cottaging was like in Muskoka in the late 1800s. On temporary display — 2 beautiful basswood whittlings made by local outdoorsman 'Jik' Jennings. These life-like creations depict an Anishinabek fisherman and a Metis hunter.
Activities
The lecture this week is about "Terminology used for Antique Glass" by pressed glass expert Sean George. Sean will explore the many different types of glass, such as Vaseline Glass…why Vaseline? What is Cranberry Glass? He'll share his knowledge on these and many more glass categories, showing examples from his own collection and the museum's collection. It takes place on Wednesday, August 24th […]
NEWS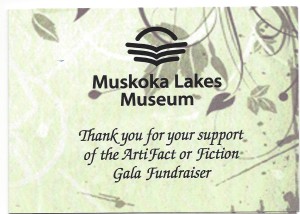 Thank you to all who made our 10th annual ArtiFact or Fiction gala fundraiser a success. Thank you to all who attended, and to the many volunteers who helped bring everything together for the evening, to Morandin Fine Foods for a superb meal, (and to Stephen's Butcher Shop for the fantastic lamb!), to Neil Hutchinson for the wonderful music, to Liz Lundell for the challenging 'ArtiFact or Fiction' game, and to our artifact sponsors — Glen Orchard General Store, Jeff Buddo of Chestnut Park Reality, MacDonald Law Office, Muskoka Lumber, Perry & Karen Bowker, Phillips, Hager & North Investment Management, and the Port Carling Home Hardware. And a special Thank you to our event sponsors — ScotiaBank, and Liz Lundell & Guy Burry. We are already planning the 2017 event — we'll keep you posted.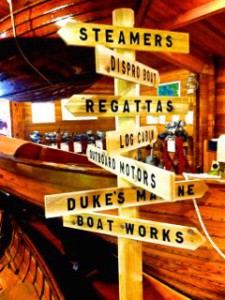 We are an Attractions Ontario Finalist in their new Ontario Choice Awards. The Muskoka Lakes Museum has been chosen as one of eight museums in the small museum category. And we need your vote! Please use the Attractions Ontario button below, or go to www.attractionsontario.ca/ontarioschoice click on the Small Museums icon and then cast you vote for the Muskoka Lakes Museum. You can vote as many times as you like! Voting ends September 6th of this year. And be sure to visit us this year, once we open on Saturday, May 21st. Thank you, and hope to see you at the museum this summer.