The Museum at Port Carling, Ontario Canada
Exhibitions
One is 'A Muskoka Lakes Portrait gallery'. In honour of Canada's 150th birthday we'll be looking at the contribution of locals to the Muskoka Lakes community in the past. There is even a connection with the Father's of Confederation – check back for more details as our 2017 season approaches. 'Canadian glass' is another exhibit […]
Activities
— to help the museum develop its volunteer program. If you are interested in volunteering at the museum in 2017 please contact us – we'd love to talk with you about our volunteer opportunities. E-mail info@mlmuseum.com or call (705) 765-5367 and leave a message, (we'll get back to you asap).
NEWS
Our annual gala fundraiser, 'ArtiFact or Fiction' will take place on Tuesday evening, August 15th at the Port Carling Community Ctre. And the 2017 Buttertart Festival is planned for Saturday, July 15th.
Many of our lecturers for our 2017 Wednesday evening summer talks are already confirmed. Topics include 'Outdoor photography' with Tim DuVernet, 'Pioneer Muskoka' with Ray Love, 'Lake Joseph history' with Bill Gray, and the film 'An American in Muskoka'. Check back for more details as the 2017 season approaches.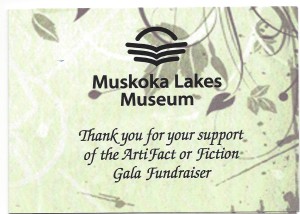 Thank you to all who made our 10th annual ArtiFact or Fiction gala fundraiser a success. Thank you to all who attended, and to the many volunteers who helped bring everything together for the evening, to Morandin Fine Foods for a superb meal, (and to Stephen's Butcher Shop for the fantastic lamb!), to Neil Hutchinson for the wonderful music, to Liz Lundell for the challenging 'ArtiFact or Fiction' game, and to our artifact sponsors — Glen Orchard General Store, Jeff Buddo of Chestnut Park Reality, MacDonald Law Office, Muskoka Lumber, Perry & Karen Bowker, Phillips, Hager & North Investment Management, and the Port Carling Home Hardware. And a special Thank you to our event sponsors — ScotiaBank, and Liz Lundell & Guy Burry. We are already planning the 2017 event — we'll keep you posted.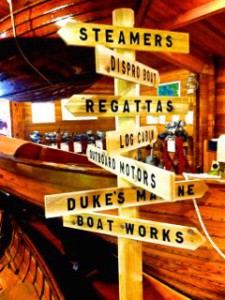 We are an Attractions Ontario Finalist in their new Ontario Choice Awards. The Muskoka Lakes Museum has been chosen as one of eight museums in the small museum category. And we need your vote! Please use the Attractions Ontario button below, or go to www.attractionsontario.ca/ontarioschoice click on the Small Museums icon and then cast you vote for the Muskoka Lakes Museum. You can vote as many times as you like! Voting ends September 6th of this year. And be sure to visit us this year, once we open on Saturday, May 21st. Thank you, and hope to see you at the museum this summer.