The Muskoka Lakes Museum's 1st Gallery
Our 1st Gallery serves to introduce you to our history.
First Nations artifacts from our fine collection, (the most complete in Muskoka, with some dating to 6000 B.C.E) are featured, along with a number of later sweet grass baskets and quill-decorated boxes.
These later items were made specifically for sale to the tourist trade. Take a few minutes to admire the early dug-out and birch-bark canoe on display in this gallery.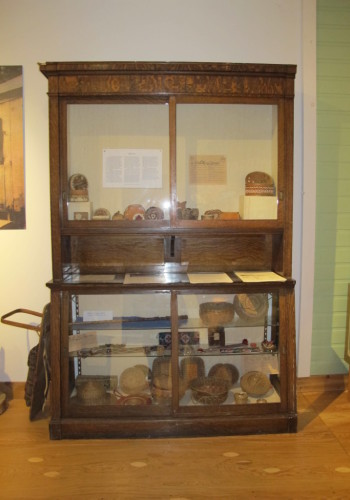 The full wall murals by local artist Ildilko 'Minzy' Hrdlicka illustrate the evolution of the region from a nearly forgotten wilderness into a pioneer settlement, (opened up by the Free Grants and Homestead Act of 1868) and then into a burgeoning tourist destination when the area proved unsuitable for farming.